Coronavirus (COVID-19) is a respiratory illness caused by a new virus. Symptoms range from a mild cough to pneumonia. While some people recover easily from the virus, others may get very sick, very quickly. There is evidence that the virus spreads from person to person and as such, it is important to practice good hygiene to help prevent infection.
Who Is At Risk?
Most cases of coronavirus (COVID-19) are in Wuhan City in Hubei Province, China.
In Australia, the people most at risk of getting the virus are those who have:
Recently been in mainland China and Iran.
Been in close contact with someone who is a confirmed case of coronavirus.
Symptoms
Symptoms can range from mild illness to pneumonia. Some people will recover easily, and others may get very sick very quickly. People with coronavirus may experience:
Fever
Flu-like symptoms such as coughing, sore throat and fatigue
Shortness of breath
What should I do if I'm feeling unwell?
If you're experiencing any of the above symptoms, seek medical attention from your GP immediately, and share your travel history.
Please call ahead to your GP before attending the surgery to ensure appropriate protocols can be put in place.
How can I protect myself and others from Coronavirus?
Be sure to follow these tips to help prevent the spread:
Wash your hands frequently with an alcohol-based hand sanitiser or soap and water.
Cover your mouth and nose with a flexed elbow or tissue when you cough or sneeze, then throw the tissue in the bin immediately and wash your hands.
Avoid close contact with anyone who has a fever or cough; Avoid travel if you have a fever or cough.
Avoid the consumption of raw or undercooked animal products.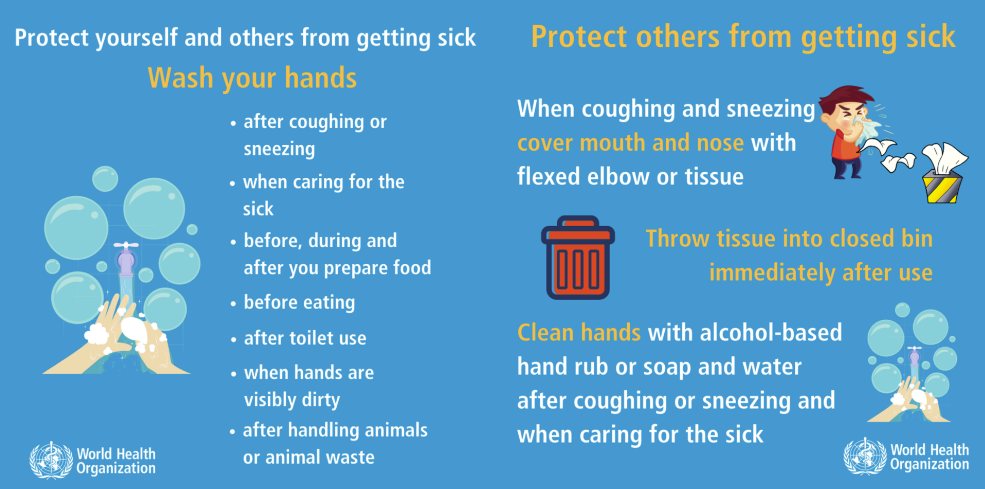 What are the current recommendations for the Department of Health?
Read about all the latest recommendations from the Department of Health here: www.health.gov.au/health-topics/novel-coronavirus-2019-ncov
---
For more information:
Coronavirus (Covid-19) Health Information Line
Call this line if you are seeking information on novel coronavirus. The line operates 24 hours a day, seven days a week.
1800 020 080

---
Healthdirect Hotline
Call this number to speak to a registered nurse about your health concerns. The hotline is open 24 hours a day, 7 days a week.
1800 022 222
www.healthdirect.gov.au
---
All information for this page was sourced from the World Health Organisation or www.health.gov.au.